After Sanrio's Lyrica magazine was discontinued in 1979, Tezuka brought Unico to the children's magazine Shougaku Ichinensei (First Grader). This wasn't the first time Tezuka had published comics in the magazine though! From the 1960s to the 1980s, series like Bongo, Leo-chan (Jungle Taitei), Gum Gum Punch, Pokkachi, Bouken Rubi, Mamaa-chan (Fushigi na Melmo), and Tetsuwan Atom were published. Unico ended up being the last comic Tezuka would make for the magazine.
The Shougaku Ichinensei version is centered on the comical adventures of Esuo (name is written as S男, the letter S and the kanji for male/man), Ragon, and Unico. The three find themselves in all sorts of crazy situations and Unico uses his magic to help.
Esuo is your typical grade schooler with a big heart but is often a bit selfish. He makes mistakes but always tries his best to fix the situation when he can. Ragon is a baby dragon that's kind of a troublemaker. While he gets upset and is quite impulsive, he too tries to help when he can. Unico is similar to the original manga, always trying to help those who are kind to him.
The manga begins with the lonely boy, Esuo. He continues bringing animals home to keep as pets and each time his mother tells him he can't keep them.
While sitting alone outside, Esuo spots Unico curled up in the grass and brings him home. After feeding Unico, the two become friends and Unico introduces himself. Interestingly, Unico calls himself an ikkakujuu, the Japanese word for monoceros or unicorn. In the original shoujo manga, they often used the English word "unicorn" (written in katakana) in several chapters. Unico's introduction may be his way of using the Japanese language to better explain what he is for Esuo and for young readers.
Each chapter is only around six pages long with fairly easy Japanese (short sentences, mostly hiragana/katakana with a few kanji). The stories are written in a silly "be careful what you wish for" style, where certain events end in disaster. For an example, Esuo needs to clean his messy room but asks for Unico's help. The more they clean, the more clutter and garbage there is.
Unico finds a large koinobori (a Japanese carp-shaped windsock) and brings it to life so it can suck up the garbage. The koinobori doesn't stop there though, it continues to eat garbage from all over until it's full. Esuo realizes that the money his grandmother gave him was gone and soon he's trying to make the koinobori stop. When the windsock finally spits out the trash, everything piles around Esuo's home and now he has an even larger mess to clean.
Overall, the stories are light and teach some lessons while being highly entertaining.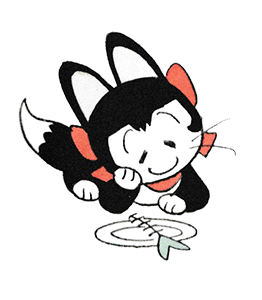 Chao, the black and white cat we know from the original series, appears toward the end of the manga's run. She has the unique ability to gather cockroaches when she cries out loudly and they swarm and cover everything in sight. Chao joins the other three on their adventures and it's fun to see what the group gets into.
Several of Tezuka's other characters make appearances as well. Atom (Tetsuwan Atom), Phoenix (Hi no Tori), Pukko (Wonder 3), Melmo (Fushigi na Melmo), Ochanomizu (Tetsuwan Atom), and even Osamu Tezuka himself! Ultraman and a strange Jabba the Hut Cat also appear.
The manga finished in the January 1984 issue of the magazine, allowing Osamu Tezuka to continue his other works until he sadly passed away in 1989. Similar to its shoujo precursor, the Shougaku Ichinensei version's chapters were rearranged and edited before having a finalized edition. The first published collection was in the 1983 Color Version Elementary School Comics set which featured several chapters from 1980 to 1982. 40 chapters were published in Kodansha's Osamu Tezuka Complete Works collection in 1993 for the first time, featuring monochromatic pages instead of all color. Two comics were left out of the set, possibly per Tezuka's request. A total of 43 known chapters have been published.
More Reading:
– The Excluded Chapters of Unico – My Unico Fans
– Shougaku Ichinensei Magazine – My Unico Fans
<< Back
Sources:
Osamu Tezuka. (1983). Color Version Elementary School Comics: Unico. Japan: Shogakukan
Osamu Tezuka. (1993). Osamu Tezuka Complete Works: Unico Shougaku Ichinensei Version (310). Japan: Kodansha
Osamu Tezuka. (1994). Osamu Tezuka Manga Picture Book. Japan: Shogakukan
Osamu Tezuka. (2004). Osamu Tezuka Kodomo Manga Meisaku-shuu: Unico. Japan: Pikka Pika Comics